Kitchen Remodeling
Build It Consulting & Construction is the key to the heart of your home. The heart of nearly every home is its kitchen. It is the heart of every family member's daily activities and where they make memories. A kitchen that is both functional and beautiful is what you deserve.
Bring Your Ideas to Life
Built It Consulting & Construction has the expertise to make your dream kitchen a reality. We can help you design a kitchen layout that makes your kitchen shine, even if you aren't sure what style, layout, or material to go with.
Our team of professionals has worked on numerous kitchen remodels. We are skilled in working with various materials, including woods, laminates, marble, granite, and tiles. We are experts in kitchen remodeling, from countertop installation to kitchen cabinet replacement/replacement to floor substitution.
We can make custom all wood cabinets, with matching interiors, dovetailed drawers, (Our Standard) according to your requirements. To reduce costs, we can modify your kitchen so that it fits around your appliances. Built It's pros can transform your kitchen with cutting-edge design and construction techniques. Free 3D computer kitchen design, with a expert CKD award winning designer. See your kitchen finished like a photo before you start. It is Amazing!
Our Remodeling Process
The initial meeting, typically, our first step is a thorough in-person consultation. Here we will discuss your ideas and vision for the kitchen remodel. We will listen to what you have to say and provide suggestions for kitchen design and remodeling strategies to make the space more efficient. If you have any questions, we will answer them and provide information about our company. We also share our portfolio of projects. This may be a good resource for inspiration or materials.
Kitchen Design and Project Review: We will work closely with you to identify the materials required for your project and give you an itemized quote. To ensure everyone is on the right page, we will review the design plans and determine them feasibly. Some materials, such as kitchen cabinets, pantry barn-style sliding door doors, and kitchen islands, may take several weeks to arrive. We'll need to prepare a detailed construction schedule and apply for permits. Coordinate with the construction crew. All of this will be explained in detail.
Set a Start Date: Once all materials are in place and permits have been obtained, we can schedule a date for construction. We will arrange a pre-construction meeting at your home. This meeting should include all the parties involved, including the job-site supervisor, architect, designer (if applicable), and key subcontractors. The purpose of the meeting is to tour the house and discuss what the plan is. We'll also establish your primary contact person and tie up any loose ends before construction.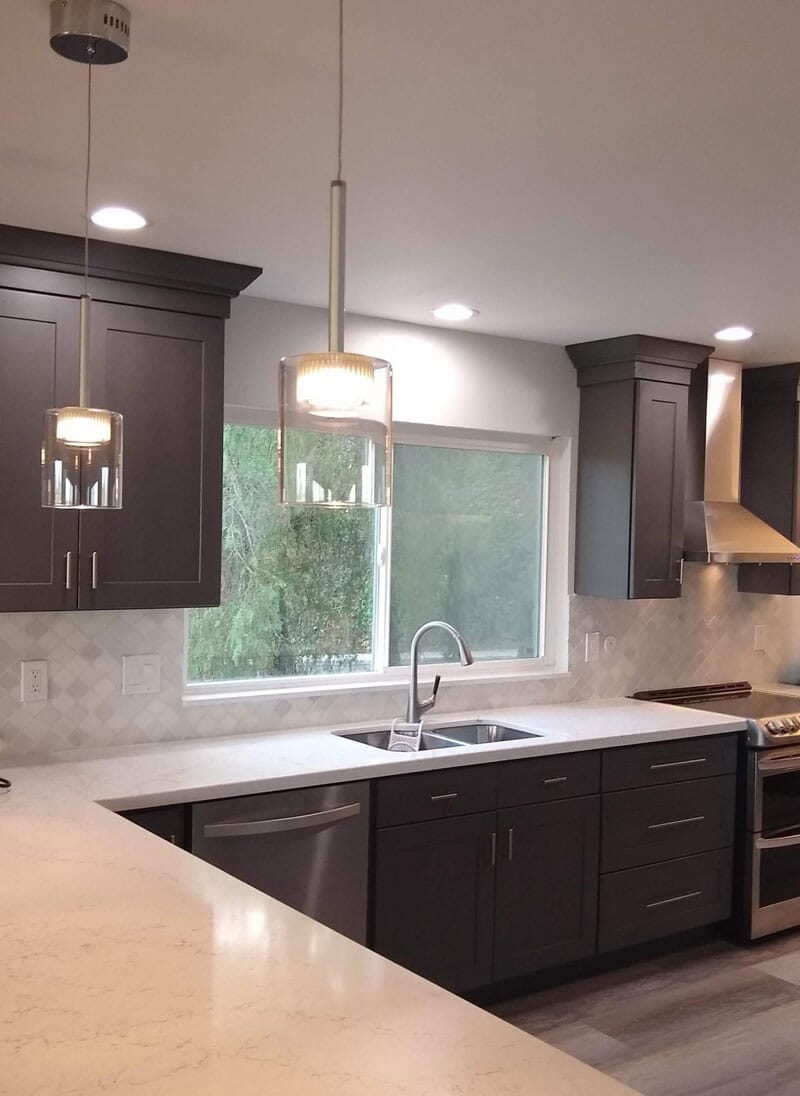 Take care of your home during the process.
It may be necessary for your kitchen to be removed, depending on how extensive the construction is. We can also help you set up a mini-kitchen elsewhere in the house. We will set up a temporary toilet and a construction fence before construction begins.
During the kitchen remodel, our crew will try to minimize any disruptions to your home. We will always tidy up after ourselves and use plastic sheeting and other methods to minimize dust and debris.
We hope to become your trusted local remodeling contractor–don't hesitate to get in touch with us to learn more and schedule a consultation for your project.
GET A QUICK QUOTE
Let us help you with your project. Free Estimate & Design. We offer one price that covers all.